Video Submit Robot: Automatic Video Distribution Software
Video marketing is a numbers game. The more people you reach, the more traffic you get and the more money you make.
Article Video Robot makes is easy for you to create a lot of videos quickly but what good is your video if nobody views it?
So, you now have to upload your videos to dozens of video sharing sites like YouTube, Metacafe, Dailymotion, Facebook, etc. Then backlink each video from at least 10 social websites if you want to rank in YouTube or get it indexed in Google.
Think about it.. Trying to upload a 100MB video file using most ISP connections is like pushing a bowling ball through a hose pipe! It can take an average of 3 to 5 minutes to upload a single video to YouTube (login + upload page + fill in the title, description, tags and then finally upload the huge video file to their server).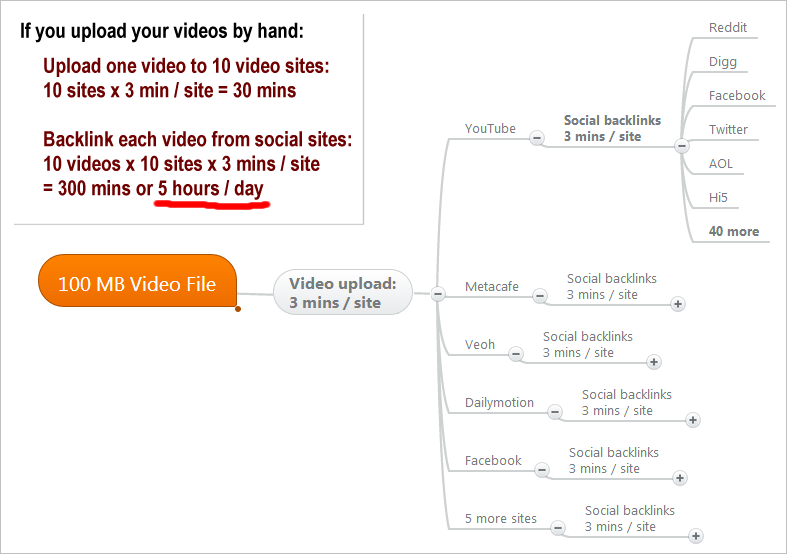 (assuming you can do it like a robot and don't run into upload errors).
The Solution: Video Submit Robot.
As a special introductory promotion we have decided to we give-away a complimentary life-time membership to Video Submit Robot to every member who buys an Article Video Robot Power or Business account before 28th August 2020.
Demo video of Video Submit Robot:
Video Submit Robot is not a free tool. It is currently sold on www.videosubmitrobot.com for $47 / month (membership only). The only reason we are giving it away to you as a special promotion (ends on 28th Aug) is because VSR works hand in glove with Article Video Robot and we want to offer you the full video marketing package.
With Video Submit Robot you can submit your videos to the cream of the crop video sharing websites like YouTube, Facebook, Dailymotion, etc. Then automatically create backlinks to each video upload from 50 social and bookmarking sites like Reddit, AOL, Facebook, Twitter, and more without even lifting a finger.
Getting free leads and traffic from videos has never been easier!
2 New Bonus Features:
- Spintax text in Title and Description for each video upload
The great thing about video marketing is that, unlike articles, there is no duplicate content in videos. But if you were to upload the same video to dozens of video sharing sites with the same title or description, the search engines would indeed mark your videos as duplicate. To prevent this from happening we have added a new feature in VSR using which you can specify a different title and description for each upload.
In our tests even a slight variation can get the video indexed multiple times showing your videos in search results for many different keyword variations.
- Video upload scheduling
A few video marketing blogs have recently pointed out that drip feeding videos (instead of bulk uploading) can have immense SEO benefits. It tells the search engines that your channel is active and constantly producing new content regularly.
Which is why we have added the new video scheduling feature in Video Submit Robot so that you can add new content to your channels at regular intervals 100% automatically!
 
N.B: The VSR special promotion will end on 28th Aug. Members that purchase Article Video Robot Power or Business account during this special promotion will also get complimentary membership of Video Submit Robot (for as long as your a member of AVR).
After the end of this promotion (i.e. 28th August 2020) you will have the choice of purchasing Video Submit Robot separately from www.videosubmitrobot.com for an additional price of $47 / month only.