Which is the best marketing strategy for a $50 budget?
Let's say you have decided to spend about $50 per month on advertising. Which ONE of the following marketing method would you pick to promote your business (and why)?
1. Pay-Per-Click or PPC ads (like Google AdWords, Bing Ads, etc.).
2. Video marketing or YouTube to promote with it with videos.
3. Search engine optimization or SEO.
4. Social media marketing using Facebook, Reddit, Digg, and Pinterest.
5. Posting on forums and blogs.
6. Buying Paid traffic from traffic exchanges (like TrafficG, HitLeap, etc.).
We sent this question to our list (which includes top internet and affiliates marketers like Willie Crawford, Ken Reno, Brian Garvin) and 571 people replied:
Here are the results (sorted by number of votes):
1. Video marketing: 176 votes
2. PPC marketing: 132 votes
3. S.E.O: 121 votes
4. Social media marketing: 74 votes
5. Forums and blogs: 43 votes
6. Buy traffic: 25 votes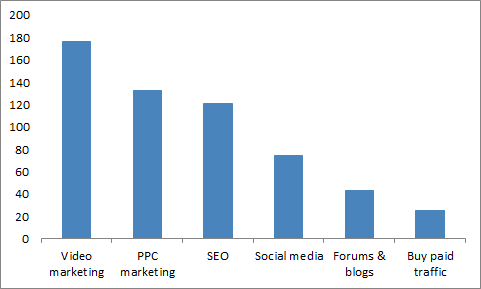 Survey: Y: Preferred Marketing Strategy / X: Number of Votes
These results are quite astonishing because the difference in the first and second place is a whopping 133% !
Here are some of the most notable replies:
Gary Livingston voted for Video Marketing and replied: "there is no limit to the videos I can create and upload to YouTube every day. So far I have more than 600 videos popping up in youtube and google for more than two dozen keywords. videos I uploaded 10 months back are still pulling in traffic everyday. it's just brilliant!"
Brenda Williams voted for SEO and replied: "one of my keywords is already on first page [of Google]. I can't wait for it to reach to the top!"
Bob Mitchel voted for Video Marketing and replied: "I have had great success with both Video marketing and PPC and I'd pick video marketing in this case because my PPC budget is generally $2000 / mo."
Otis Roberts voted for PPC Marketing and replied: "I have been using PPC ads for 5 years now so it is the obvious choice for me. Nothing beats PPC ads period"
Heather Wills voted for Video Marketing and replied: "I have been creating videos to promote my dog training website since 2013. I have over 29,000 subscribers in my [YouTube] channel now and I can tell you without a shadow of a doubt that that's where the money is."
Ashok Rane voted for SEO and replied: "I run a SEO company and I don't think anything can compete with organic traffic. But pls don't do anything shady. I think video marketing and social media marketing are part of SEO only"
Alexis Jones voted for Video marketing and replied: "it [videos] gives me the highest return for my investment. I see consistent traffic from videos i created 2 years ago.. this non-stop traffic is what i love the most"
So which one would you pick? Please help us with our study by telling us your opinion. I promise it will only take a minute of your time!
Voting Bonus: Vote to unlock the comparison table I have created after analyzing and categorizing pros and cons of each marketing strategy under 4 different criteria: "Volume of traffic", "Targeted traffic", "Recurring Traffic", "Work needed".