AVR Update: Get AVI video download links within your Members Area
We've been waiting to get this feature rolled out for long and finally its here. You can now view all your AVI video download requests within your ArticleVideoRobot Members Area. With this feature, you'll now be able to see the status of your video download request, and access all your previous AVI download links. This will also solve the problem users face in receiving download links to their emails as the same links are now available in their Members Area directly.
Where is the option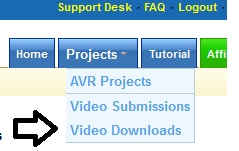 To access this feature, move your mouse over the Projects tab. This will reveal a dropout menu where you'll find an option named
Video Downloads.
This will open the Recent Video Downloads page. The page lists all your Video Download requests that you've put in so far. The below screenshot shows a sample report page that was taken from my ArticleVideoRobot account.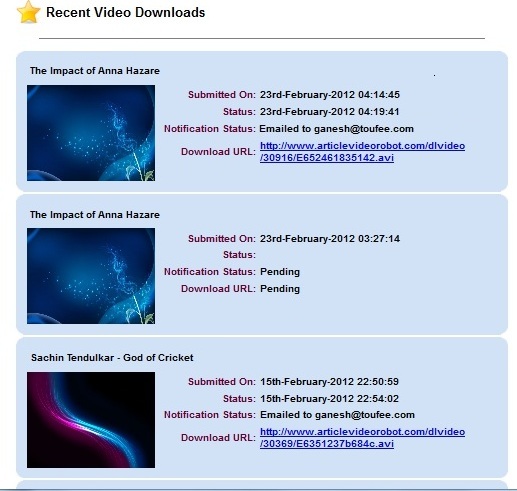 How it helps
One big problem that it addresses is that users may now re-submit their video download requests when they notice a delay in receiving the download link. We've seen quite a few users report that download links are received very late (takes a few hours or even a day) that caused quite an inconvenience. Usually, it takes only 5-10 minutes for the AVR flash movies to be converted to a video file. So the next time you submit a AVI download request, go to your Video Downloads page and check the status. If you see the status as Pending for more than 10 minutes, then go ahead and re-submit the video again. Once you re-submit, check again to see the status of the newly submitted request. In most cases, the second request should get completed within 5-8 minutes and you'll see the download link.
I hope a lot of customers will find this option very handy, more so that it would solve the delay with getting the AVI download links.