How to increase traffic to your website using ArticleVideoRobot's video SEO features
We keep getting queries as to how to generate traffic to their website and to their YouTube videos and increase the video hits. Well, Rome is not built in a day, and generating traffic requires some work but thanks to ArticleVideoRobot, you could build up serious traffic to your videos without having to sweat much. Here is how:
Use Dynasubmit to generate hundreds of videos in minutes
Let's say you have just a single video article. You post the video to YouTube, the chances of your video generating traffic is very low when compared to millions of videos that are posted every day. But ArticleVideoRobot's Dynasubmit does the magic by turning your single video into hundreds of unqiue videos thereby hugely increasing the chances of traffic to your videos. How? Let's say you want to submit a video named
Online Forum Marketing
with 3 different titles to three video sites. You fire up ArticleVideoRobot's video submission wizard, and select the
Use Dynasubmit feature
. In the
Dynsubmit Video
page you would select the first video site, say YouTube and then enter the first title/description pair for YouTube. You would then select Metacafe and then enter second title/description pair to Metacafe. You would then select the third video site, say DailyMotion and enter the third title. Once done, you would click Next. After you submit the video in the first cycle, you would have submitted the video to YouTube, Metacafe and DailyMotion but with a different title. To make sure all 3 titles are present on all 3 video sites, you would have to do two more cycles (i.e. repeat the video submission wizard), then on the second time you would post the second title/description combination to YouTube, third combination to Metacafe, and first combination to DailyMotion, third combination to Yahoo Videos, etc. So on the third or the last cycle, you would have all the 3 different tile/description pair posted on all the 3 videos.
Consider if you could come up with 10 different video titles (for your single video) and post it to 10 video sites which means you would have ended with 10 titles x 10 sites = 100 video postings just out of a single video!
Use One-Click Wizard to keep ArticleReel up to date
We know that
ArticleReel keeps working in the background to generate traffic
to your website and keep it on top of Google Rankings. However, as I had mentioned in many of my earlier posts, Google loves updated content. Googles loves ArticleReel too because ArticleReel implements what is called Google XML Sitemaps, which Googles uses to index your website and ArticleReel pages. Now, when there is a new content in your ArticleReel site, Google would automatically know because ArticleReel implements Google XML Sitemaps. But how do you keep your ArticleReel page up to date? By creating new videos ofcourse. But it could be quite taxing to create new content every other day. That is where the
New One Click Ezine Wizard
comes into the fore. With the
New One Click Ezine Wizard
you could create any article to video in seconds. So even if you have only a couple of articles, you could simply re-use the existing articles, make simple changes to your content, launch the Ezine Article Converter wizard (the
New One Click Ezine Wizard
that is), select the
Other Website
option and simply paste your article in the wizard after making the changes (change the Article Title, Article Body, etc) and finish the wizard to dish out a new article. What this means is that when you create a new video article, it is automatically updated in your ArticleReel website/page, which means the Google XML Sitemap is also updated triggering the Google robot to re-index your ArticleReel website. Now, this is something Gooogle loves to do and Google would happily re-index many times a day if you keep your ArticleReel pages up to date by creating new videos. Assuming you manage to create three videos every day (which should take say only a few minutes altogether), you keep Google busy which is very important as Google ranks websites that it indexes many times a day on top of the rankings compared to websites that it indexes few days once.
Digg it, Tweet it - let the world know

Social bookmarking is a powerful tool when it comes to any form of internet marketing and that which is not utilized to the core. Publish your video to bookmarking sites like Digg, Delicious, Tweeter, StumbleUpon and see your video hit rates go over the roof within a couple of days.With ArticleReel's integrated publish features, you could easily
publish/post your videos to 230 social bookmarking and networking sites.
Simply open any ArticleReel video, navigate to the bottom of the page, and click the icon (shown below) to open the integrated publish options. Select the site you wish to publish to and you're done!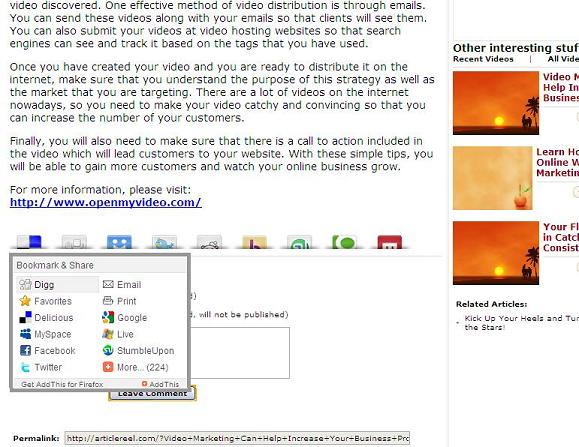 Social bookmarking is a powerful channel that can get you targeted and quality audience that could directly translate into immediate sales. Even if you would post to just 10% sites of the 230 sites, you're easily publishing your video to 23 sites which by any means a large number of sites. And remember that there are other bookmarking and indexing sites that get updates from Digg, StumbleUpon which means your video would go places without any effort from your end.
Hope the topics discussed were useful. I will discuss more techniques in the upcoming posts that would explore ways to generate more traffic as always :)