Introducing the new ArticleVideoRobot Member Area to speed up your video article marketing success
It is an exciting time at
ArticleVideoRobot
as we have planned a number of major changes to the popular article video converter and distribution software. The first of the changes lined up is the new Members Area. The new Members Area includes an improved dashboard that sums up your account information better. You'll notice the regular options
Full Article to Video Edito
r and the
New One Click Ezine Wizard
now more organised under
Start a New Article to Video Project
. You would also notice that you'd see that all your most recent projects under the Recent Projects section. Note that you might not see all your video projects - not to panic, I'll show how to access all existing projects later in the article.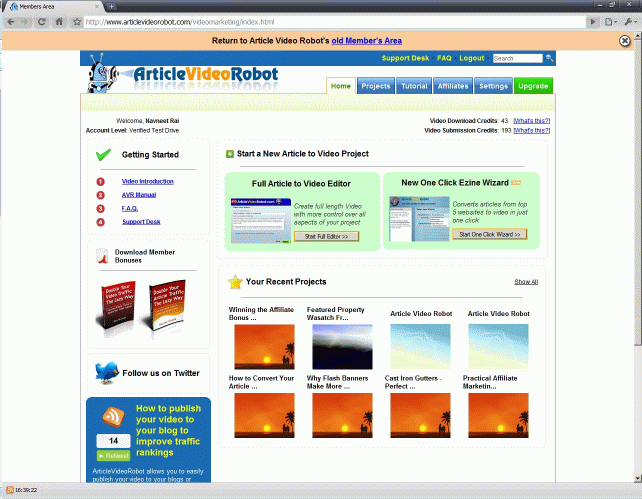 Let me first introduce some of the new changes. The most important of them is that the Members Area now lists the
AVR (Video Download)
and the
VSR (Video Submissions)
credits. A number of our customers have lots of confusion over the credits. Note that you get two sets of credits with your membership every month.
The Members Area would also now list your Account Level on the top left. The Members Area also now has the new
Follow us on Twitter
link if you wish to follow ArticleVideoRobot on Twitter. Just below the
Follow us on Twitter
link is a quick preview of the latest blog article with the the blog title and a short description of the article.
One of the new features of the
Your Recent Projects
section, is the quick preview box that shows a quick description of the article along with important options which include
Preview This Project
that opens the
Quick Preview
window,
Download/Distribute
that opens the
Select Publishing Options
screen from where you could choose to download or distribute the video as well as the Edit this Project that opens the video in the Full AVR Wizard.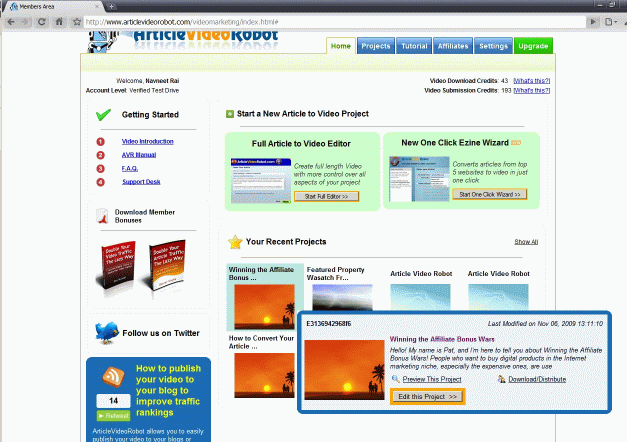 Staying on with the Members Area, you'll notice a new tab called
Projects
that will list all your recent projects. The difference is that the Projects tab lists all the video articles with the detailed preview and all of the options. However, one of the immediate question one might notice is where have all the existing projects gone? Here is how you access your existing video projects


In the new Members Area, click Start Full Editor button available under the Full Article to Video Editor option. This would open the ArticleVideoRobot wizard


Click the Open Existing Projects button. The wizard will list all your videos


Select a video and on the right panel you'll see the buttons Edit Selected movie and Distribute selected movie. Click Edit Selected movie option to open the video. If you would like to distribute the video, select Distribute selected movie


Notice the flashy bar on the top that says
Return to Article Video Robot's old Member's Area
. Click this if you wish to switch over to the old Members Area. Clicking on the close icon (the cross sign on the bar) removes this bar permanently, but just in case you wish to switch over to the old Members Area page, simply navigate to the following URL
http://www.articlevideorobot.com/members/home.pl
and you should be right there.
Hope this helps. Should you have any questions, please raise a ticket to Support Desk (
http://www.articlevideorobot.com/support
) and we'll be glad to assist.
See you all in my next post,
Ganesh