Tips and tricks to improve video marketing traffic using VideoSubmitRobot
We receive many queries from users on various aspects of video marketing and video article submission using VideoSubmitRobot. We thought we'd put a kind of a guide that sums up all the important steps to ensure a successful video marketing experience. Here you go:
Ensure your video accounts are setup
Before you can start submitting your videos, it is required that you have user accounts on the video sites. If you do not have a user account for a specific video site, you can sign-up from within VideoSubmitRobot by clicking on "
Not a Member? Create Account
" link.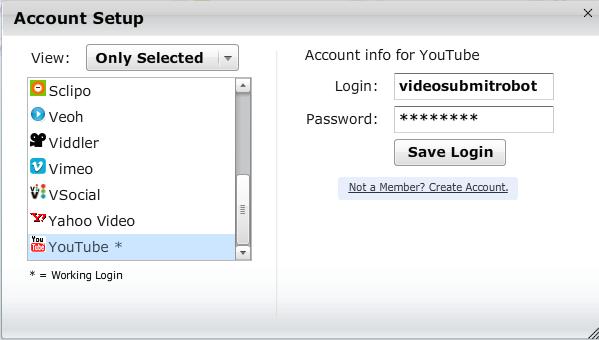 Activate video accounts
Once you have created user accounts on all the video sites, it is recommended that you
manually login to all the video sites ONCE
to ensure that your videos are posted successfully when using the VideoSubmitRobot program. Facebook flashes a message bar (like the one show below) to verify your account.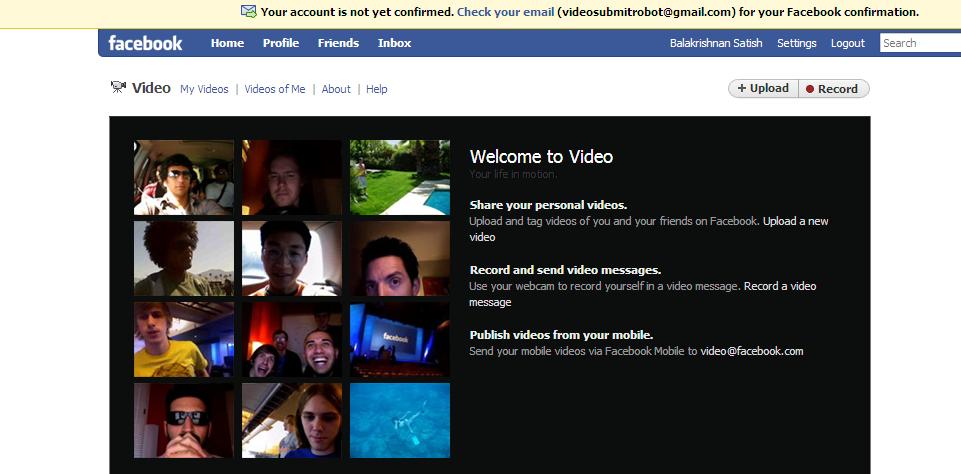 When you use a non-Google email account to register with YouTube, you will have to verify your email address before you can start posting videos to YouTube. This process is not required if you used a Gmail account during signup (you wouldn't have seen this message at all).

Yahoo Video account needs separate activation

Even if you do already have a Yahoo account, you would still have to ensure that you activate your Yahoo Video account. Bear in mind that you have to login to your Yahoo Video account manually so that it gets activated
Remove Account Restrictions
Some video sites have an initial restriction on new user accounts – a standard procedure to guard against illegal usage by robots and to encourage fair content. Facebook has an initial video restriction of 2 minutes (or 10MB, whichever applies). This restriction is lifted once you complete phone verification on your Facebook account.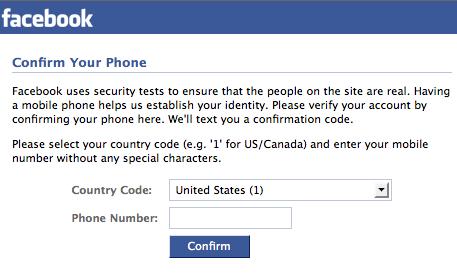 Stick with what you know
Where possible, always use existing accounts over new accounts since this gets you more views. Also, streamlining also your videos into a single account (per video site) increases your popularity with search engines resulting in getting indexed and thereby your videos being viewed more often.
Ensure content-rich videos
Vimeo and DailyMotion expect content to be informational and not "promotional" in nature.
DailyMotion is very strict on videos that are self-promotional and usually removes them from the server.
The key to successful video submissions on DailyMotion is to ensure that the video is as informative as possible. If you find a video rejected by DailyMotion, you can always contact their support and request for an explanation.
Also use high-quality videos as much as possible. Vimeo and DailyMotion emphasize a lot on the video quality as they do on the content. The ArticleVideoRobot Business Account supports HD-quality (resolutions of 640x480 and higher) that ensures your video articles are delivered at the highest possible quality when being distributed to the video sites.
Hands-On approach
It is also important to understand special exceptions – for example, all videos posted to Revver are manually reviewed and approved by Revver staff. Hence videos posted to Revver are not immediately available and the VideoSubmitRobot report might show as "PENDING" or "FAILED". The VSR report is automatically updated as soon as this video is approved and available.
Get it right the first time
Make sure you always preview your video more than once before posting it a video site. Before you go ahead and submit the video, always make sure you post it one video site and once you verify that the video posted fine, go ahead and post the video to the remaining video sites. This way, you not only save time but also avoid duplicate video submissions. Once you get traffic on one of your video, you enjoy much better chance of your videos being ranked higher by the video sites.
Participate
If you use an account only for submitting videos and never manually login or view other videos through that account, your videos are rated lower and hence you get lesser views. So make sure that you actively subscribe to video channels that relate to the content that you're marketing, add comments or rate other videos and try to view as many videos as possible. This ensures that you get views back to your account and eventually to the video that you have posted.
Use DynaSubmit to maximize reach
DynaSubmit is a unique feature that allows you to post your video to all the video sites while allowing you to uniquely customize the content (video title and the description) for each site. With DynaSubmit, you post the same video (but with a unique title/description customized for each video site) to all video sites at one click. This feature helps prevents content duplication problem in search engines where your single video can have multiple search terms/keywords associated to it.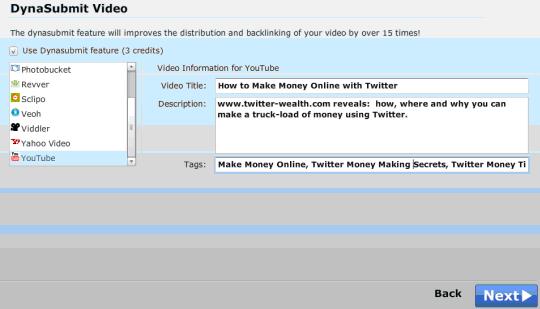 For example, you could have a video article "How to Use Twitter to Make Money". With DynaSubmit, you can post this video article using different (but related) titles such as "Make Money Online With Twitter", "Top Twitter Money Making Tips", "Online Money Making Secrets with Twitter", etc. This way, search engines treat each instance of your video posted on different video sites as unique and your video gets associated with a variety of search terms. So the next time someone searches for Twitter and money, you could surely bet your video would be on the top search results.
Use
DynaSubmit to drive huge traffic to your videos overnight.
All that is required is to create keyword-rich video titles and DynaSubmit does the rest - your videos always make it to the top of the search results which even the popular SEO companies would take ages to achieve.
Use Tags Effectively
Tags are keywords that describe your video article. More specifically, the video sites as well as the search engines use tags to identify videos. By using the most relevant keywords to tag your video, you ensure your videos end up being searched more often and this couldn't be a bad thing at all :)
Go Broad
Try to submit your videos to as many different video sharing sites as possible. You need your video to get popular at only one of these sites to get massive amount of traffic. If you would like to see a pattern of traffic on various videos it is generally too low or too high. Once you cross the too low bracket your video catches on
nicely.
Tip the Jar
Post your video URL at Twitter, your blogs and on your profile pages on social networking sites. This really pushes the ranking of your video considerably in search results. Once a video starts to receive traffic, it gets indexed by bookmarking sites which in turn adds to the number of backlinks to the video. This improves the video ranking in search engines and starts piling up good traffic increasing the relevance of the video in sites like YouTube, Metacafe as these sites tend to feature viral video sites more prominently.
Be Diverse
Use a combination of voice-over characters to add more spice to the video. The built-in TTS engine of ArticleVideoRobot Business Account that comes with 12 voices (the Power Account has 8 voices while the free trial has 4 voice-overs) which gives you a diverse range of voice-over characters. This ensures your target audiences are hooked to your video and not bored by a single voice-over.