YouTube Video Marketing Secrets: Three Steps to Rapidly Increase Your YouTube Traffic
You just dished out a new video about your winning product and you're ready to upload to YouTube. If you think that you've done your job and pray to the Gods to generate traffic, then luckily, you still have three saviors that can weave the magic of instant traffic. In this article, we discuss the most important tips that can easily result in amazing video views and a rapid increase in traffic to your YouTue videos.
Its all in the Video Title - Get it Right!

The YouTube Video Title is the first and the key factor that gets a user to view a video from the scores of videos that gets listed from his/her search. Let's say I search for "How to Lose Weight" in YouTube. I get atleast 5000 videos listed and of the top videos that gets listed, you'll very often that the Video Title always almost has the keywords "How to Lose Weight
Fast
" (yep, who doesn't want to lose those pounds fast?). So what are we getting at? Let me put it this way - which video would I click from the list? I would click on a video that has the most
descriptive
Video Title. The Video Title that provides the most information wins.
Look at the following screenshot for an example. The Video Title of the third YouTube video ("
How To Lose Weight Fast - Like 20 pounds in 3 weeks
!") is precise and provides a concise idea of the video content and what to expect from the video. Just the right dose of information to get the user to watch the video. The video views stands testimony to its success.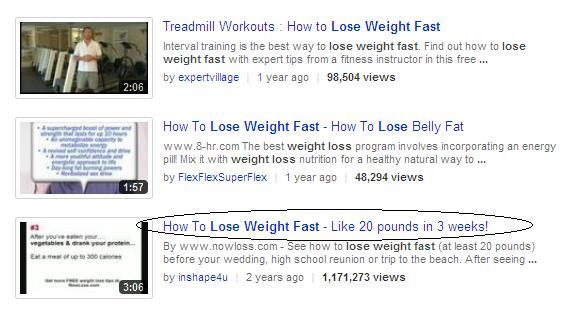 The bottomline -
Word your YouTube Video Title such that it has a key fact or your most important tip/success mantra on the title itself
. Its the deciding factor between your Youtube video being watched or being given a miss . Get the Video Title absolutely perfect - even if it takes a few hours, sweat it out. Think as to what is that you're selling that others don't and put this fact in your YouTube video title.
Video Description - The Double Bill
Having a perfect video title is just half the race won. You've almost dragged the user to read your video title, well done, however as your user reads the video title from the search results, the user eventually or probably would glance at the Video Description. Note that YouTube displays only the first 25-30 characters from the Video Description in the video search results so its vital that your Video Description starts with your most important information/tip that you're sharing in the video. Below are quick tips for a sure-shot formula you should incorporate in your first few sentences in the Video Description.


The first sentence is your sales pitch - describe as you would to a customer who is likely to give you a sale.


The first sentence should reflect the central idea of your video so be generous to share a tip!


Put as much facts as possible instead of writing long sentences. This helps avoid using conjunctions such as and, not, or, etc


Avoid your website address or your Company Name in the beginning - you are wasting space for valuable words that otherwise can make a sale


YouTube Related Searches - Use it Well
Related Searches is YouTube way of telling us what are the popular search terms that users are searching for. How do you use it? Make sure that your Video Title and your Video Description has the right mix of the maximum terms from those returned in the Related Searches.

Remember, though you incorporate most of keywords from those from Related Searches, your trump card to getting your videos viewed is to provide maximum information in the Video Title and Description so
be generous to share a tip or two.