View your Video Submission reports from within your Members Area
Hello everyone. I just thought I'd write on quick note (won't call it a blog entry) about the ArticleVideoRobot video submission reports. We've been making little additions to the ArticleVideoRobot user interface that goes unnoticed sometimes. In this post, let me show the option that lets you view all your video submission reports. The report will the urls of the video posted on YouTube, Metacafe, DailyMotion etc. So here is how you access it. In the Members Area, move the mouse over the
Projects
tab and then click the
Video Submissions
option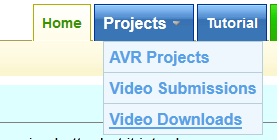 In the page that opens up, you'll see a list of all videos submitted so far. Clicking the individual report will list the urls of the video that were submitted to the video sites.
Another handy way to check your video submission reports is to login to
www.videosubmitrobot.com/login.html
using your ArticleVideoRobot user ID and password. Once logged in, you'll be able to access detailed reports of your video submission similar to the ones displayed in the Members Area. The one reason I mentioned about using videosubmitrobot.com is you can use it to check when you find the report not updated in the Members Area. The reports in your Members Area are taken from the feed of videosubmitrobot.com. So if you see a delay in receiving the video submission reports, you can logon to videosubmitrobot.com to check the status and/or the completed report.