Article to Video Maker
Article video robot turns any plain text article into a stunning animated video with voice-over - 100% automatically.
No video editing or camera required. It's a super easy, and works for every product and niche.
(watch video tutorial)
Finding articles for your keyword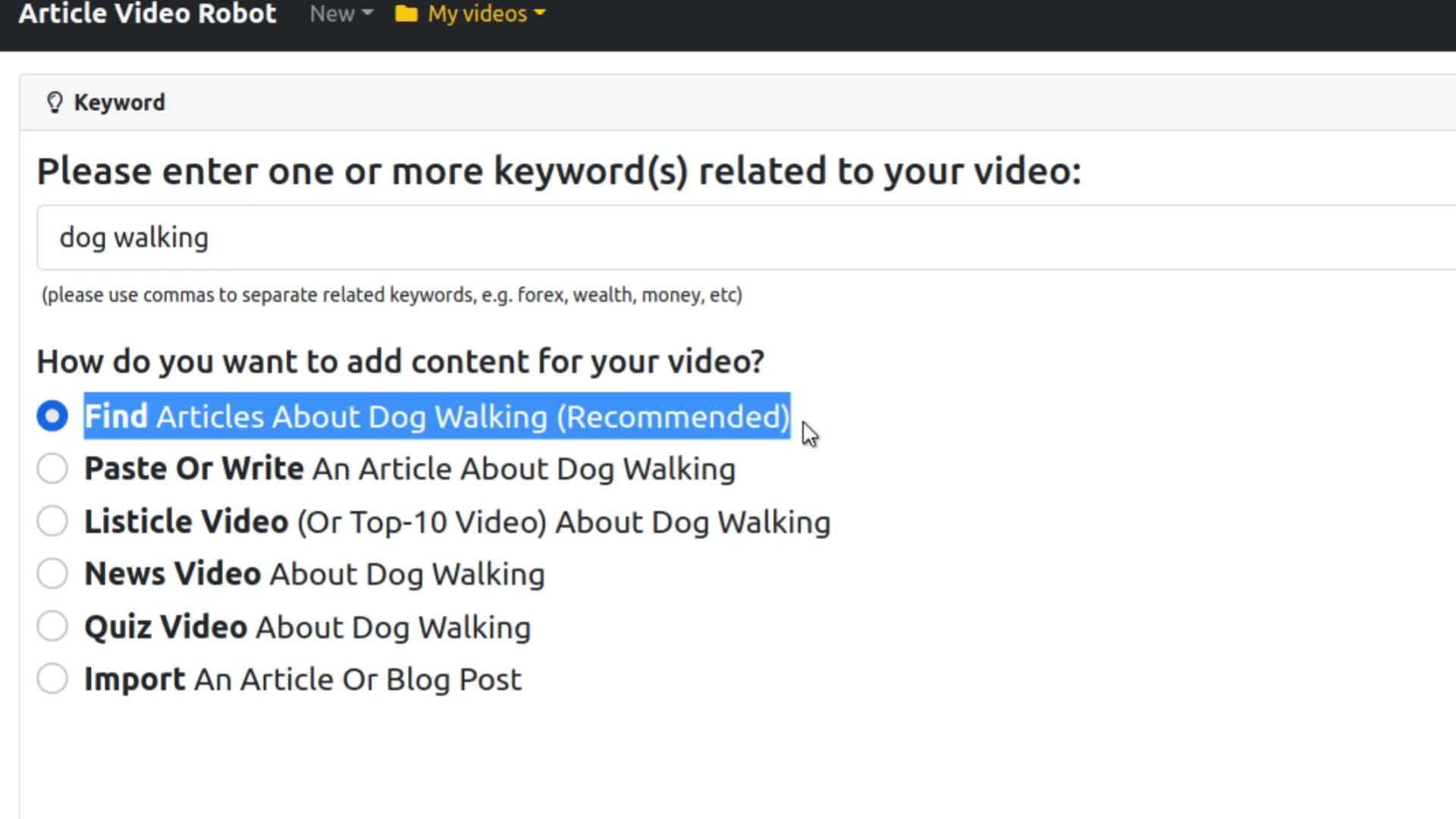 This is the keyword screen. Enter your main keyword for which you want to generate a video.
Let's say you run a dog walking business, and you want to make videos for it.
You can enter the keyword "dog walking". Article video robot can create many types of videos for this keyword.
The most popular type of video is a content video. It's a video you create from an article or text.
You can write your own article or use this built-in search to find the best articles for your keyword.
You can also create listicle videos, news videos, quiz videos for your keyword but more on that later.
For this demo let's use the article search. Just select this Find articles option here and press Next.
Select an article or write your own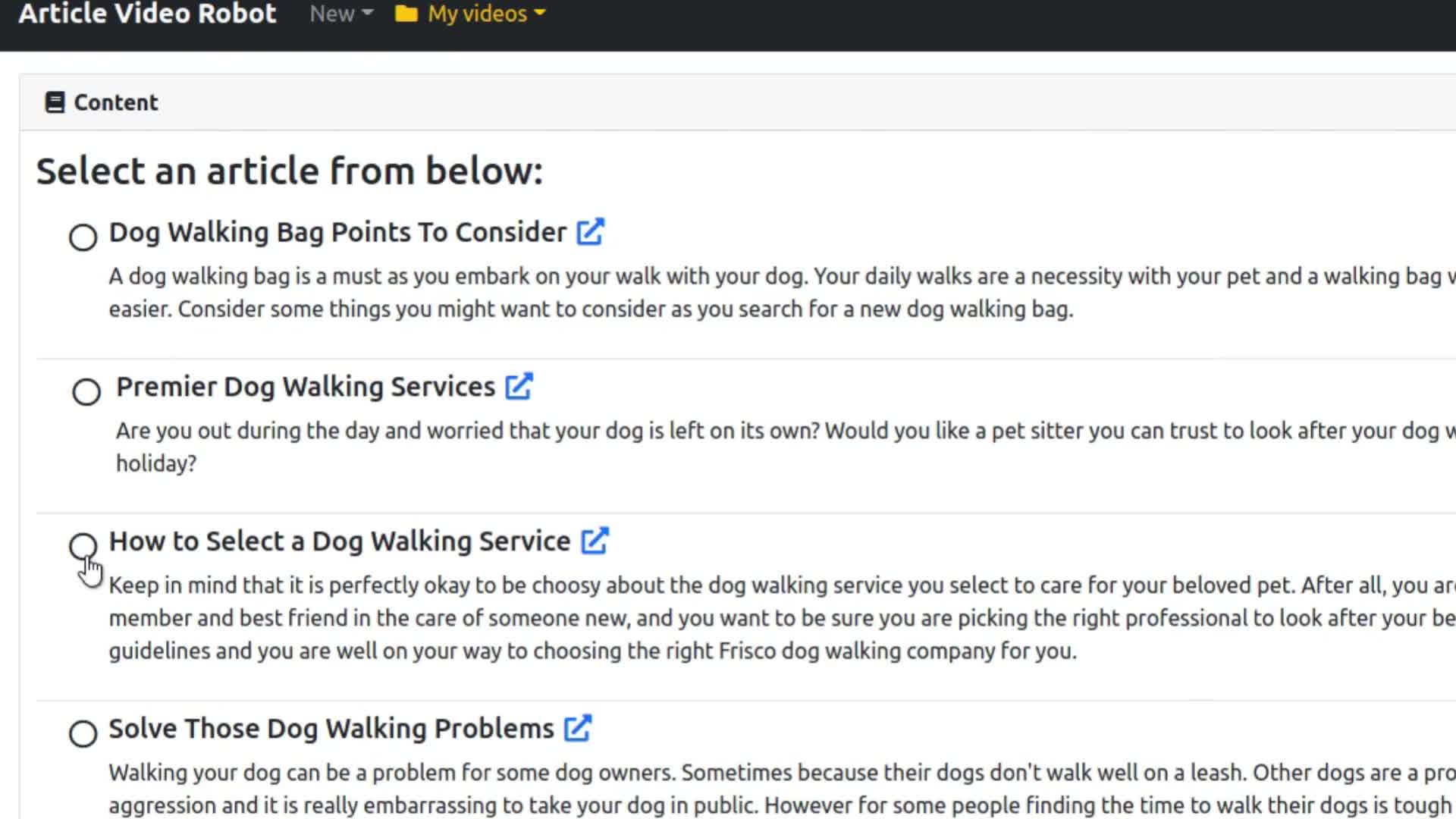 AVR has found dozens of articles for the keyword "dog walking". Select any article you like and press Next.
Bold relevant keywords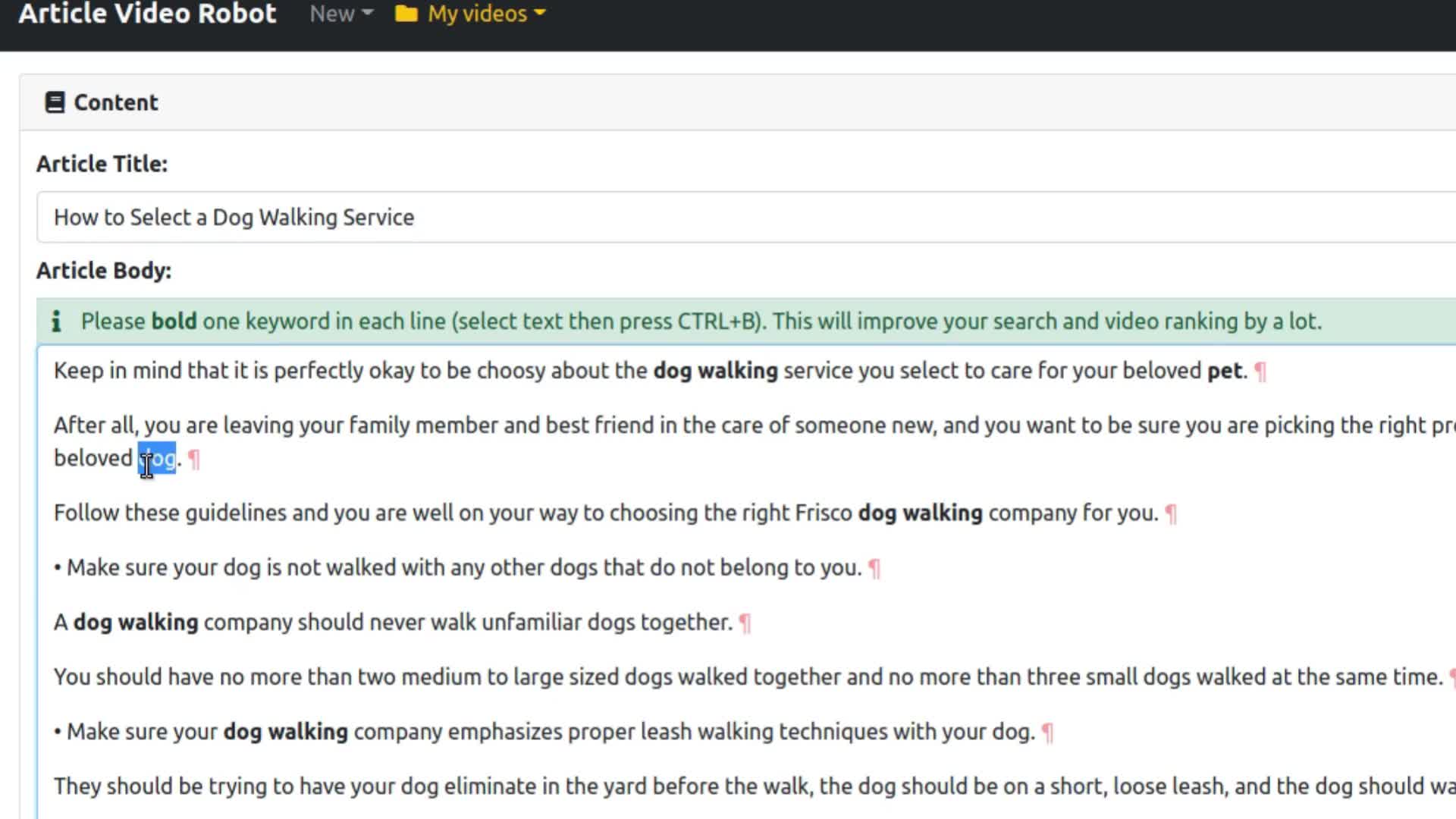 AVR has now successfully imported the article. Feel free to make any edits or rewrites here as needed. We recommend that you must bold all important keywords inside this text to boost your youtube and google rankings. Just select a keyword and press Ctrl+B.
Turn it into a video!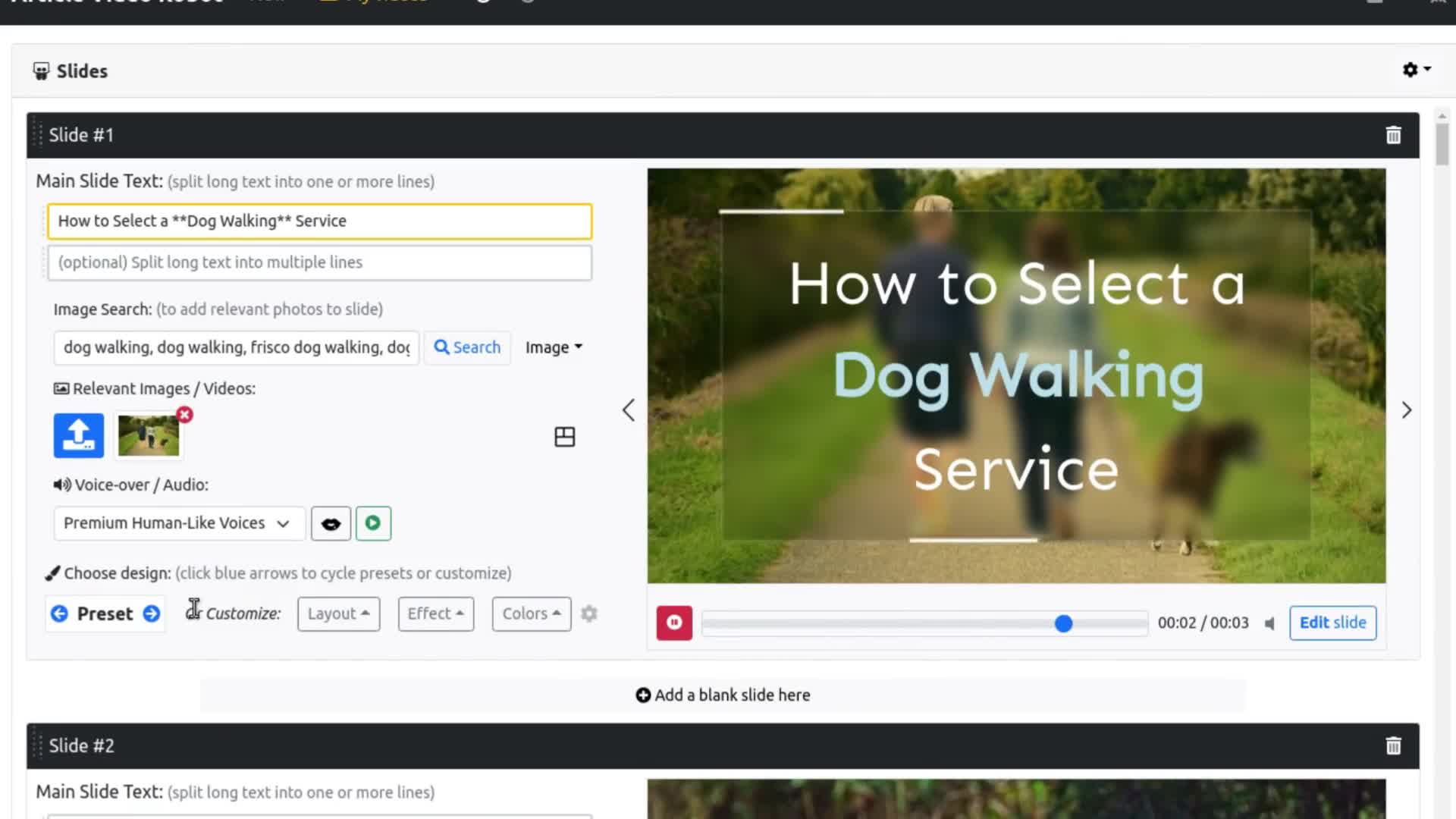 And in just one click, AVR has magically transformed your article into a fully animated video. It has even added relevant images, created animations, added a voice-over as you can preview here instantly.
Change video style with presets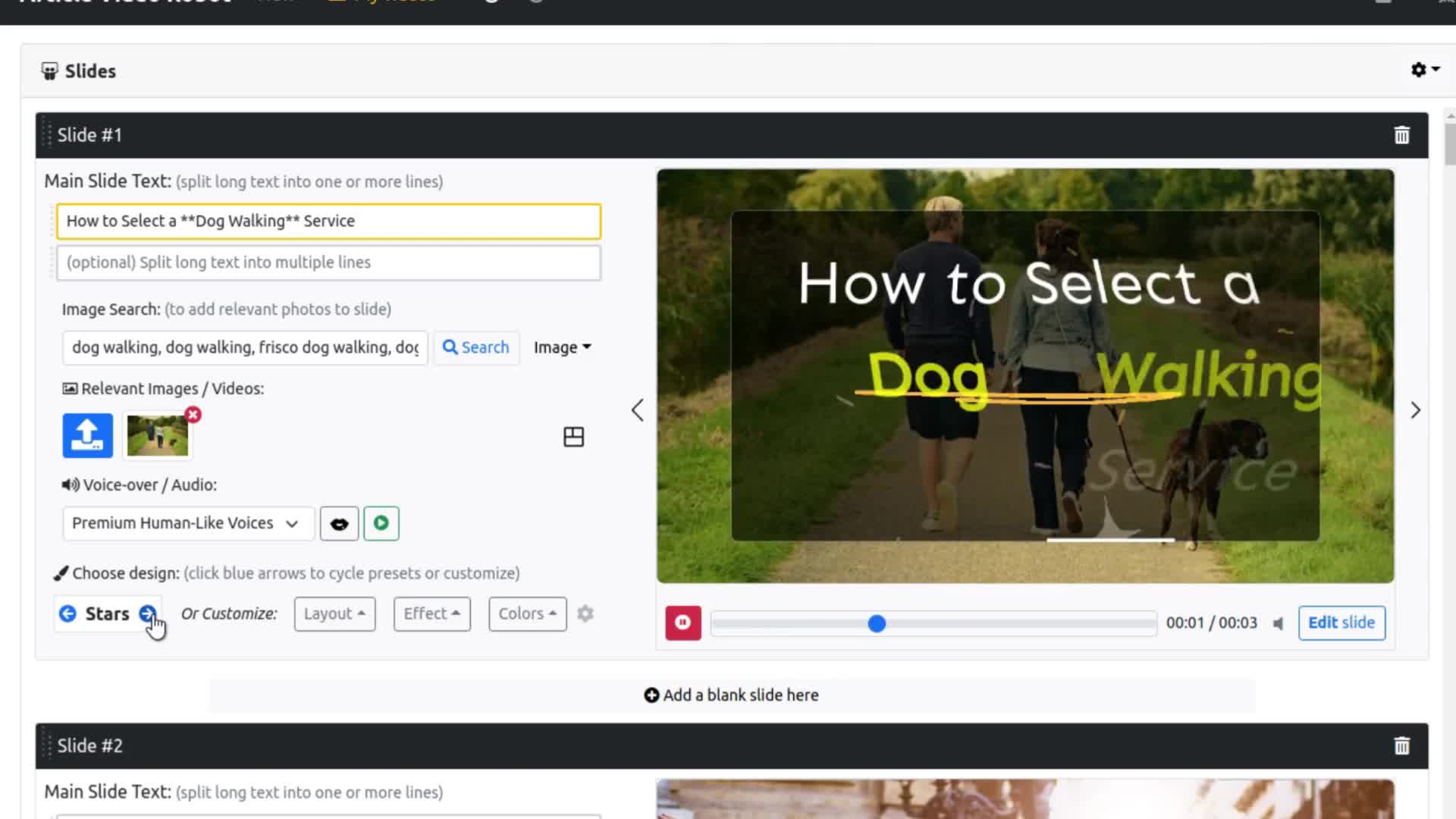 AVR comes with hundreds of styles and animations. Just click these arrows here to apply different presets and change the video style. There are hundreds of professional styles to choose from.
Add relevant images and videos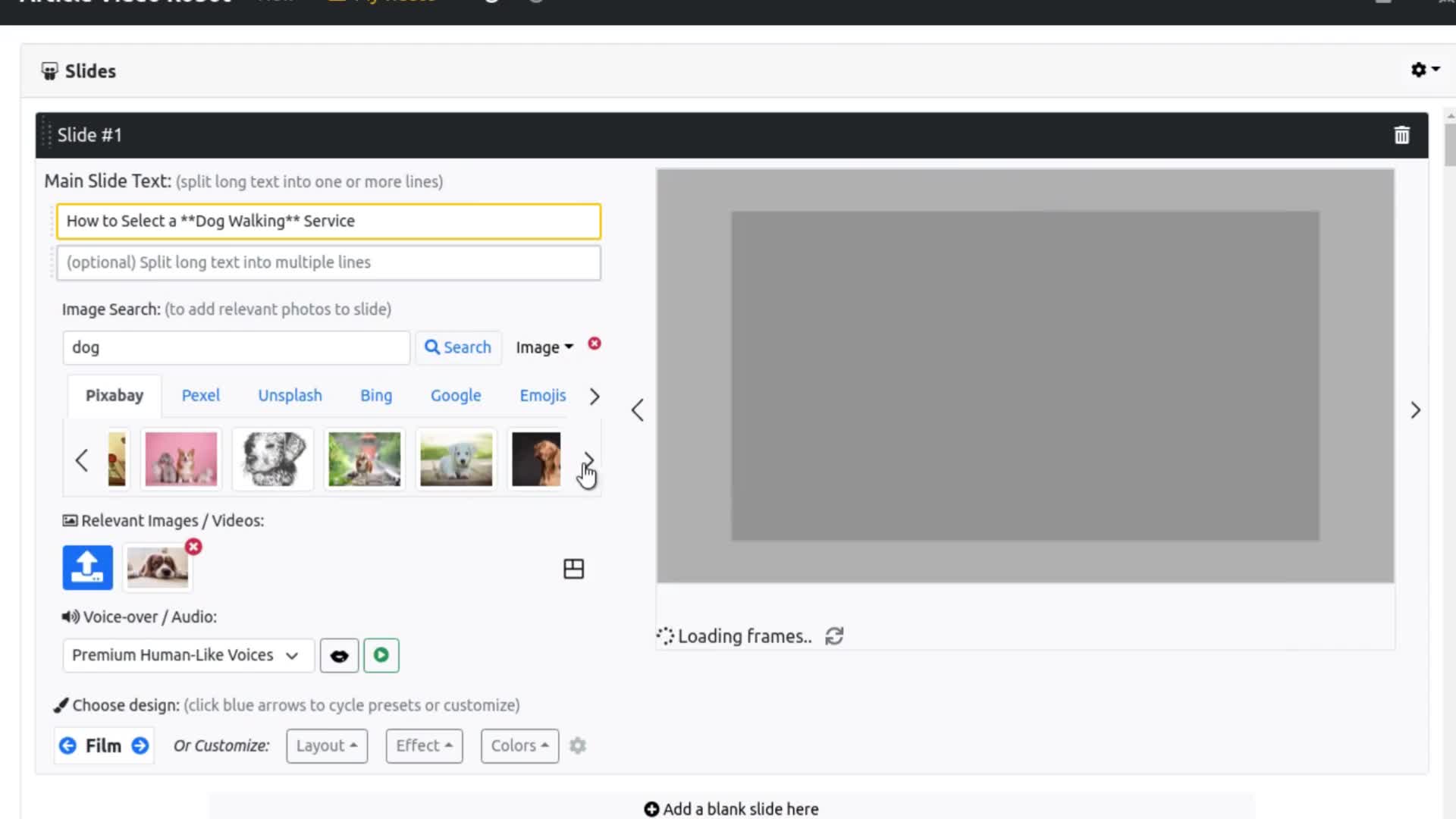 There is a built-in media search here using which you can search millions of images and videos to add relevant media to your video. To upload your own images or videos press this button here.
Automatic voice narration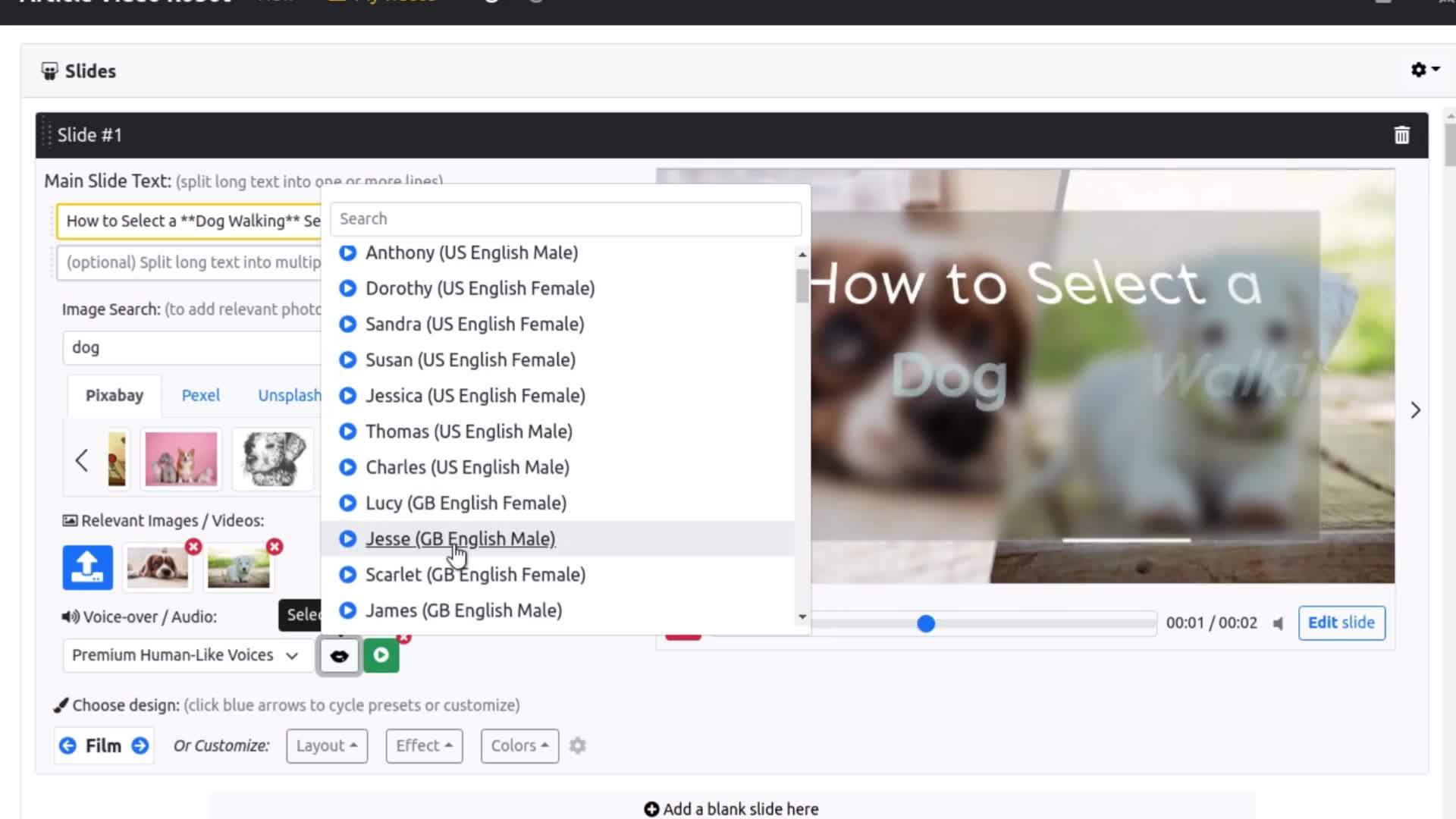 AVR can also add voice-narration to your video with amazing human sounding voices - 100% automatically. You can choose from hundreds narrators and languages using this button here.
Or record it in your own voice
If you wish to record your own voice instead, AVR comes with a built-in voice recorder. Select voice-recorder from this drop-down and click this mic icon here and speak the text flashing on the screen. Then click save to save your mp3 and record the next sentence.
Optionally, you can enable this 'answering machine mode' setting here to automatically save the voice recording when you pause.
Customizing the video
AVR videos are highly customizable, and you can tweak everything from the effects to layout using these setting here. See the video customization tutorial for more details.
You can now preview all your slides. Click Next to continue.
Add background music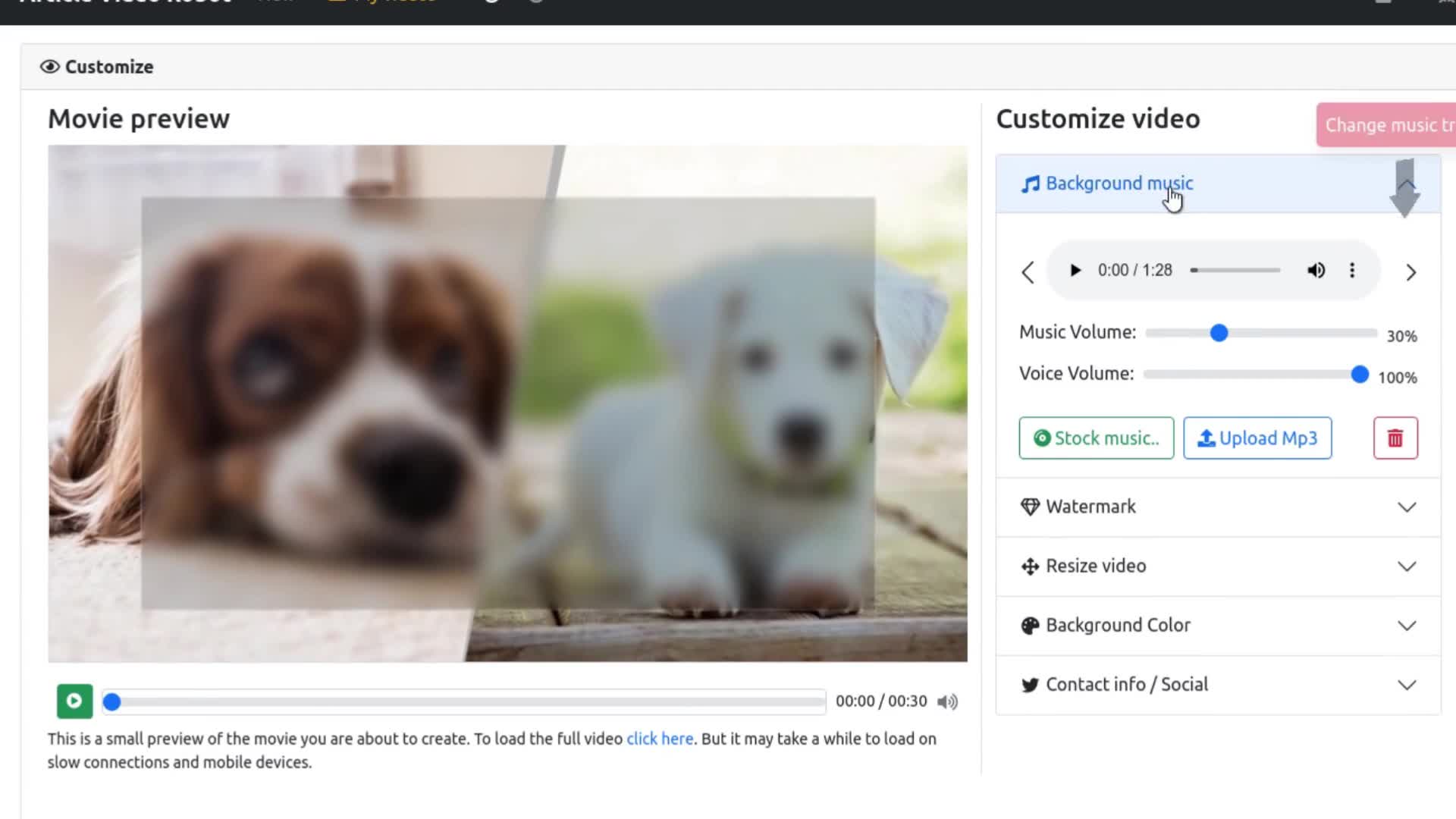 It's time to add some finishing touches. Use these panels here to change the background music and add your watermark.
Change video size for instagram, facebook, youtube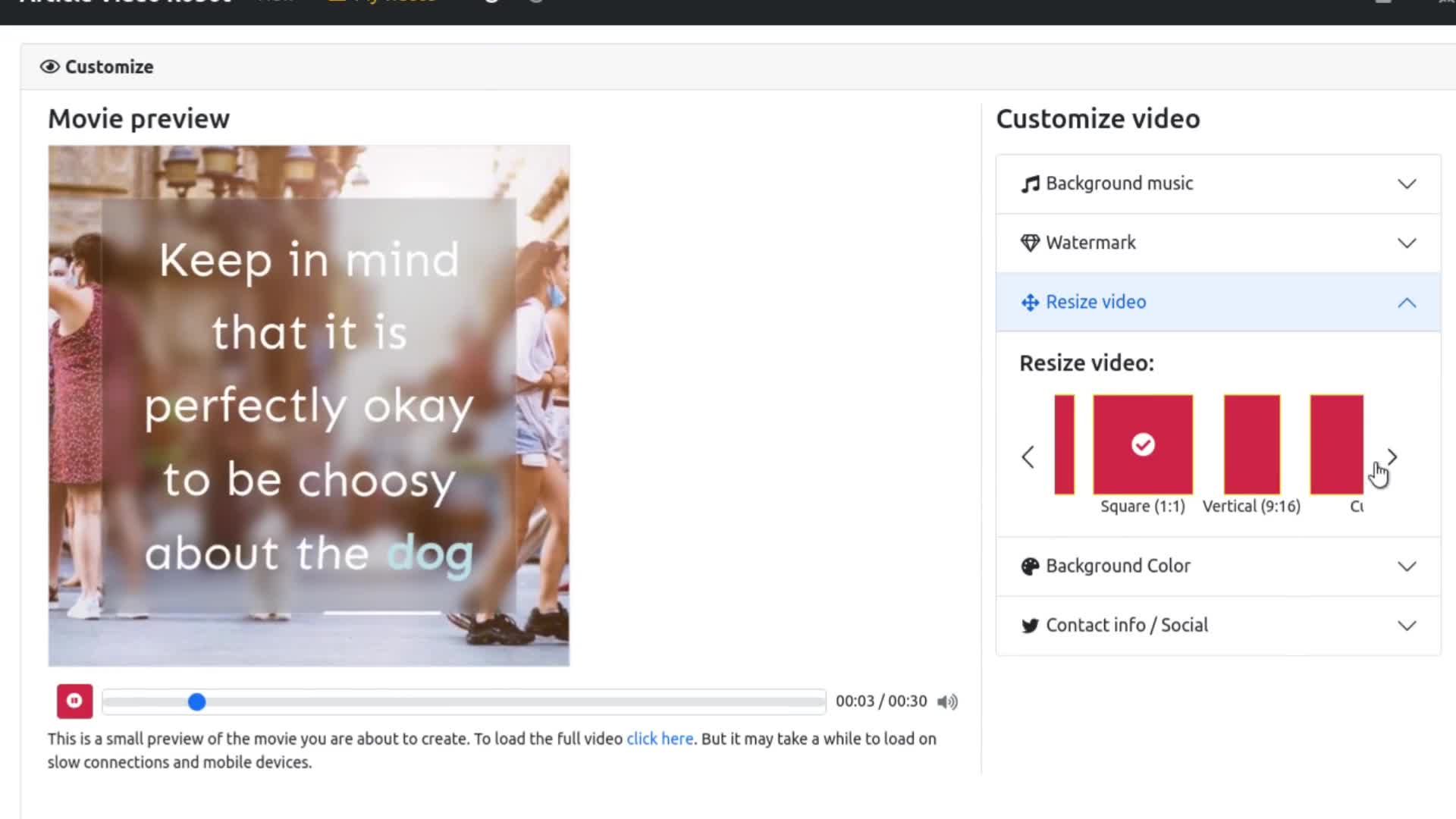 You can also resize your video depending on the social site you're targeting. For example, if you're posting on instagram instead of YouTube, you can switch to a vertical video size like this.
Add contact info to your video
Add your contact info using these panels here to redirect viewers back to your website and social pages.
Download MP4 of video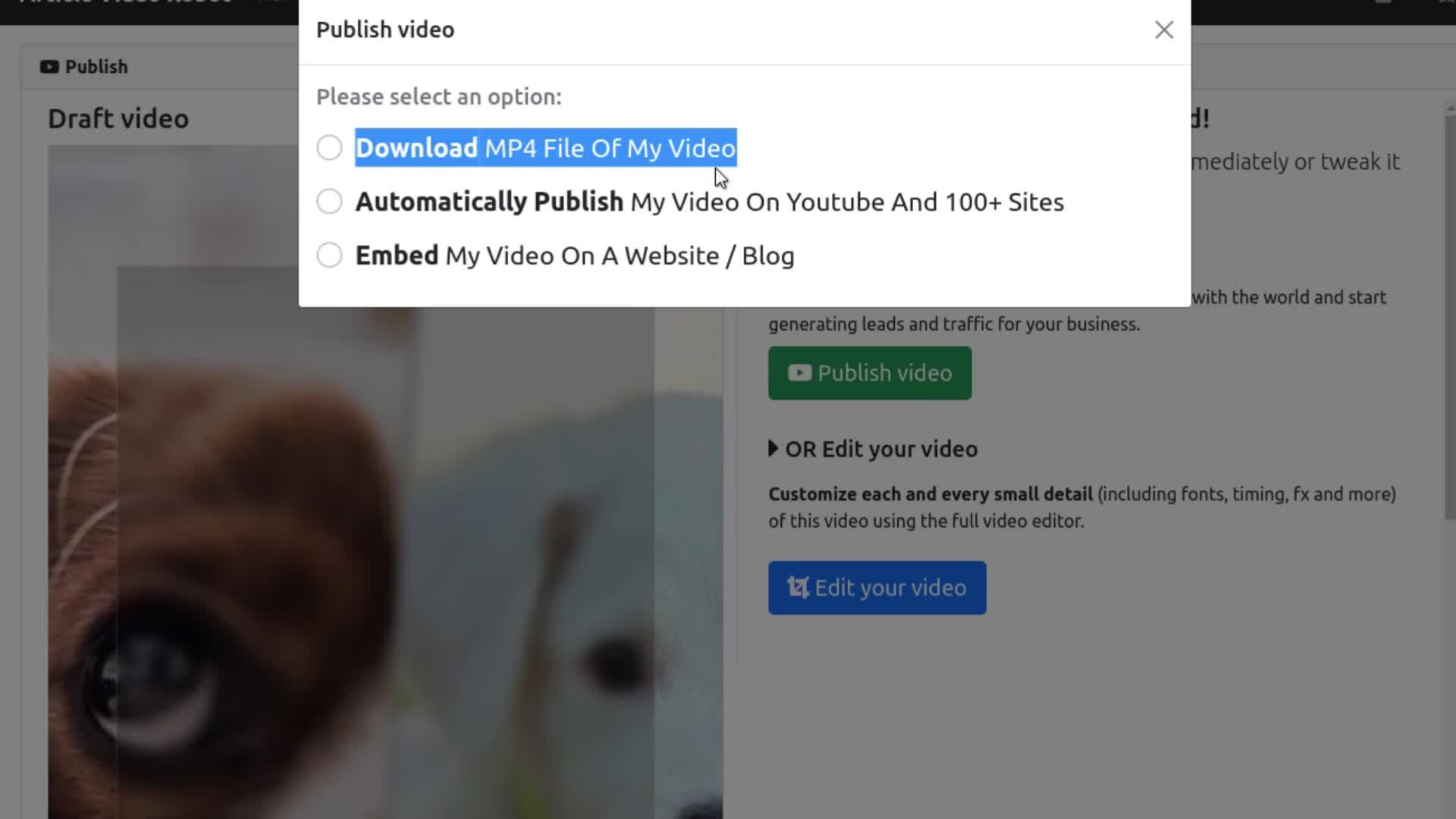 That's it! Your video is ready. You can now download a MP4 file of your video or use our automatic video distribution service to post this video to dozens of video and social sharing sites and start generating new leads and traffic for your business.
Edit your video in full editor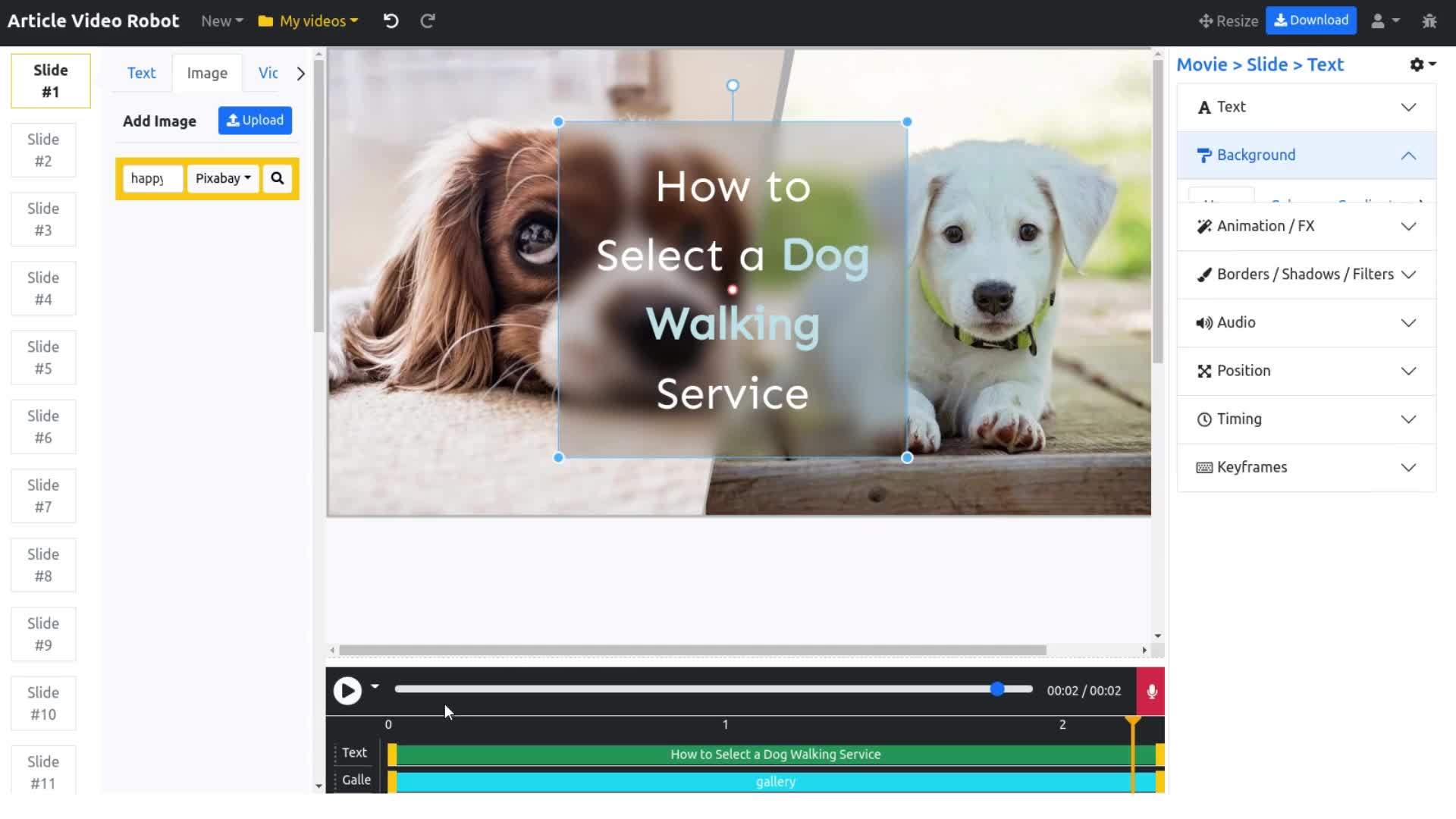 Article video robot also comes with a fully featured video editor. It's a very powerful video editing tool using which you can edit and customize every single detail of your video. Please check out the video editor tutorial for more details.